2020 DSBIA Board of Directors: KC Kinnings (President), Mike Ahumada (Vice President), Rodger More (Tresurer), Margie Black (Secretary), Kip Kinnings, Mario Cuevas, Donna Kalez, Ed Neely and Steve Stirrett.
WHAT IS THE DOHENY STATE BEACH INTERPRETIVE ASSOCIATION?
Doheny State Beach Interpretive Association (DSBIA) is the non-profit cooperating association of Doheny State Beach dedicated to the protection of the park's beaches, facilities, marine refuge and historical and cultural stories.   These challenges are met through DSBIA's fundraising efforts and active support of the park's educational, interpretive, conservation and restoration programs.  DSBIA was established in 1982, and is one of the oldest cooperating associations in the California State Parks System.
CURRENT PROJECTS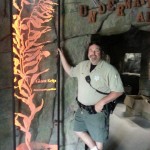 THE VISITOR CENTER

: DSBIA teamed with California State Parks in renovating and upgrading the Visitor Center (VC) following great damage to the building in 2007. Today, the VC contains the largest public aquarium in the California State Park System with a tide pool tank and 5 other aquarium tanks containing local species from the various ocean habitats off the Doheny coastline, displays of birds and mammals, a park gift store, and ranger offices. The VC is open to the public 7 days a week between 10 AM and 4 PM and is staffed with DSBIA volunteer docents. Free programs for schools and other groups are available upon request, and a field trip transportation grant is available to schools (see below).  DSBIA continues to support both the building and care of the animals inside the facility.
THE WHALE WALK:

  Once upon a time, life-sized paintings of the whales found off our coastline graced the beach front promenade of the park.  Time and asphalt repairs took their toll on our cetaceans and they faded away.  DSBIA has brought back the Whale Walk!  We've already painted a humpback, a mother gray with her baby, an orca, a blue whale (largest animal ever on earth), a minke, a sperm whale and a fin whale (second largest whale, known as the grey hound of the sea).   We have plans to expand the Doheny Whale Walk  with more whales and rowdy dolphins!
FIELD TRIP TRANSPORTATION GRANTS

:  DSBIA provides grants to public and private schools to pay all or part of their transportation cost from school to our park and back for the purpose of curriculum related field trips.  More information can be found in the Education section of this website

ENVIRONMENTAL STUDIES SENIOR SCHOLARSHIPS:  
DSBIA awards up to three (3) scholarships to graduating seniors from Dana Hills and San Juan Hills high schools who will be attending an accredited  2 or 4 year colleges or universities in the fall following their senior year of high school with plans to pursue 

environmental studies and issues relevant to the preservation and protection of the California State Parks, their natural and cultural resources, and the mission of the Doheny State Beach Interpretive Association.  Scholarship applications may be obtained from the high school guidance councilors in January of the current school year.
 

SUPPORT OF THE PARK'S ENVIRONMENTAL AND INTERPRETIVE PROGRAMS

:  DSBIA provides financial support for the Park's Junior Ranger Summer program open to park visitors and the local community, and to the Lifeguards' Junior Lifeguard Waterman Academy.  DSBIA members assist the Park's summer campfire program with members offering evening presentations.  DSBIA supports the park's four annual beach clean-ups.  DSBIA supports restoration and replanting of native plants and trees in the park.  DSBIA took a leadership role in winning a $10,000 Odwalla grant for new trees in the park.  DSBIA provides financial support to park rangers and staff for interpretive professional development activities.  
JOIN US!
BECOME A MEMBER

: DSBIA invites you to join us in our support of Doheny State Beach with Individual or Family, Annual or Lifetime memberships; or join us though our Student, senior or Organization memberships.  Members receive a 20% discount on items in our gift shop (located in the Visitor Center), invitations to special DSBIA events (including our annual Members Wild Life Cruise and our Members Barbecue), and our monthly e-newsletter (The Doheny UPDATE).
Here is a link to our

membership form

.  Please print it out, fill it in and mail it to us at the address on the form.  You may also stop in at our gift shop, located in the Visitor Center at the parks entrance.  Our camp volunteers and docents will be happy to accept it!

BECOME A DONOR:  

Business and Corporate Donations.

  DSBIA invites businesses, service groups and corporations to join with us beyond membership through the "Doheny State Beach Corporate Donations Program."  Donations can be made towards a specific program or to support all DSBIA projects and programs.  Donations levels are suggested below.  Donors are recognized in our e-newsletter (The Doheny UPDATE), through press releases to our local media and are posted in our Visitor Center.  Donors at the Pelican Level and above will receive invitations to special DSBIA events.  All donations are tax deductible.  To discuss a donation, please email DSBIA at info@dohenystatebeach.org
| Amount | Level | $50,000 | Blue Whale | $25,000 | Gray Whale | $10,000 | Dolphin | $5,000 | Blue Heron | $2,000 | Pelican | $500 | Sea Lion | |
| --- | --- | --- | --- | --- | --- | --- | --- | --- | --- | --- | --- | --- | --- | --- |
 Click on this link for our donor information form DSBIAbroch